IASGO 2017 / HBPSurG 2017
Du 15/11/2017 au 17/11/2017
Centre de Congrès - Cité Internationale Lyon - 50, quai Charles de Gaulle 69463 Lyon
---
Frais d'inscription
Les inscriptions électroniques sont closes. Les inscriptions sur place seront possibles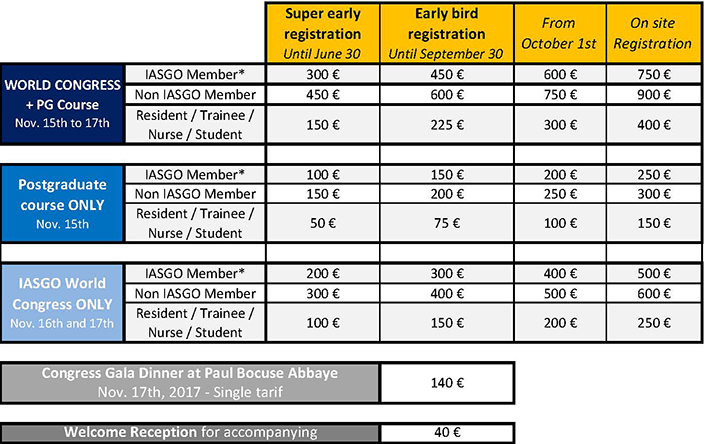 *Can also benefit from special IASGO members rate:
- Members of ACHBT
- Members of E-AHPBA
- Members of the EFISDS
- Members of the EDS
- Members of French Academy of Surgery
- Members of the Lyon Surgical Society
Registration procedure
1. To register to the IASGO 2017 conference you have to create an account filling out this electronic form in the
"Pre-register"
tab. After that you will receive an automatic response by e-mail including a link to click on to validate the account.
2. To log into your personal space please use your e-mail address and your password. Click on the "Pre-registration" tab, tick the general sales conditions and complete your registration.
3. Please choose a rate, options and a payment method.
Attention ! Ne payez en aucun cas votre inscription si vous n'avez pas de visa pour venir en France. Il sera impossible ensuite de vous rembourser. Merci de votre vigilance.